Yes, prebiotics are good for the skin! They are directly linked with the probiotics!
Our skin is home to billions of microorganisms. In fact, each area of our body has its own unique skin microbiome of - mostly good - bacteria, viruses and fungi. This community of microbes helps our skin function and stay healthy!
When the skin's microbiome becomes unbalanced, we can see certain skin concerns develop, such as dryness, rash, redness or existing concerns can be exacerbated.
Probiotics are the good bacteria that keep our health and skin in check. There are numerous research studies proving that probiotics can help in preventing and treating skin disorders, including acne, allergic skin inflammation, eczema, atopic dermatitis, skin hypersensitivity and UV-induced skin damage.
Prebiotics help these good bacteria to do their job without failure: Prebiotics are the food source of probiotics! They act as a food supplement for probiotics, stimulating the growth of good bacteria. When the good bacteria are flourishing and abundant, they can - in turn - keep the harmful bacteria under control.
Prebiotics keep our skin's microbiome strong and fit. They strengthen our skin barrier and protect from external pathogens that cause skin issues like inflammation, allergies, rash, eczema etc. Prebiotics also help keep our skin's pH levels healthy, maintaining the ideal "ecosystem" of the skin.
In short, prebiotic skin care can help provide optimal skin health for everyone!
BIOLIN.P is a prebiotic ingredient mixture of Gluco-oligosaccharides and Inulin.
Gluco-oligosaccharides obtained from natural sugars through a patented enzymatic synthesis.
Inulin is extracted from the Chicory root (Cichorium Intybus).
BIOLIN.P is a powerful, bio-selective prebiotic, which boosts the growth of all good bacteria, without stimulating the harmful bacteria. It is actually a food supplement for the friendly microorganisms, while the harmful ones can not use it as a food supplement.
BIOLIN.P has the unique capacity to regulate the skin's microbiome balance, by stimulating the protective microorganisms on our skin.
As a result of this regulating power, the following cosmetic performances can be obtained: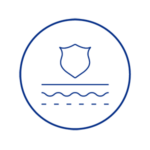 Maintains the skin protective barrier
Helps to restore the skin barrier
Helps to prevent skin disorders (itching, redness, malodour)
Maintains the healthy appearance of our skin
In the presence of BIOLIN.P, the friendly bacteria can recover and grow faster than the harmful. Even when the natural skin balance is disturbed, BIOLIN.P helps the friendly bacteria to recover. The friendly bacteria have a serious advantage on the harmful ones!
Active ingredient – Technical data