Junior toothpaste with caramel flavor
Oral hygiene gel with prebiotics, aloe vera and xylitol. For children above the age of 6 years.
Cleans juniors' teeth and contributes to the prevention of plaque build-up and the protection against dental caries. Helps maintain healthy teeth and gums.
Contains sodium fluoride (1450 ppm F-)
SORBITOL, AQUA, GLYCERIN, HYDRATED SILICA, XYLITOL, SODIUM BENZOATE, CELLULOSE GUM, XANTHAN GUM, AROMA, SODIUM LAUROYL SARCOSINATE, INULIN, SODIUM SULFATE, SODIUM FLUORIDE, CITRIC ACID, SODIUM PHYTATE, GELLAN GUM, FRUCTOSE, SODIUM CHLORIDE, ALOE BARBADENSIS LEAF JUICE POWDER, SODIUM CITRATE, SODIUM GLYCOLATE, ALCOHOL
For daily use, ideally after every single meal. Use an amount of 1-2cm for supervised brushing to minimize swallowing. In case of intake of fluoride from other sources consult your dentist or doctor. Teeth brushing is highly recommended before bedtime.
Suitable for babies with celiac disease
Suitable for homeopathic treatment
novalou oral care strawberry
Oral hygiene gel with prebiotics, aloe vera and xylitol. For kids 2-6 years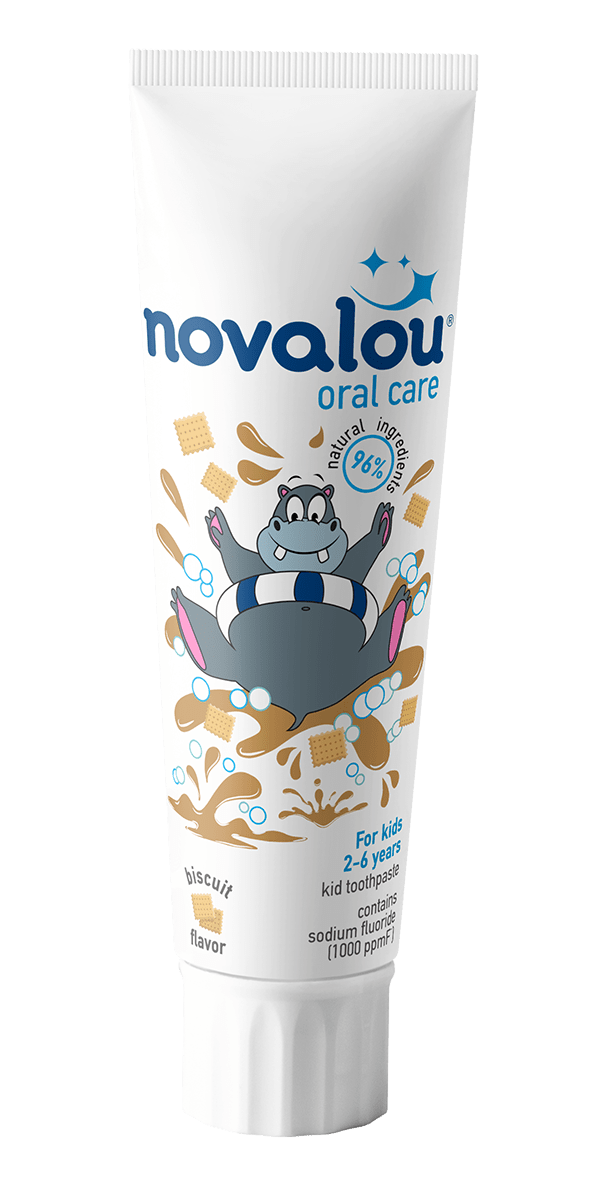 novalou oral care biscuit
Oral hygiene gel with prebiotics, aloe vera and xylitol. For kids 2-6 years
novalou oral care vanilla
Oral hygiene gel with aloe vera and licorice extract. For babies 0-2 years